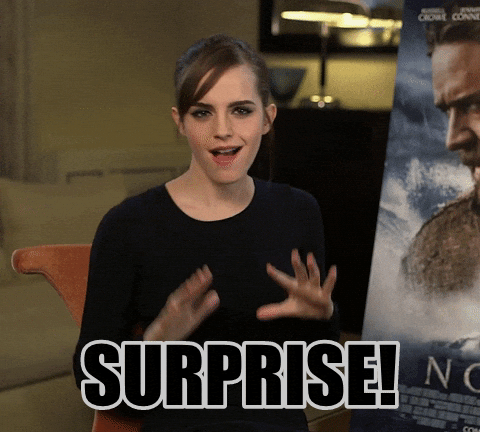 Surprise!!!! When It's Real was my first read by the marvelous duo Erin Watt! I've seen and heard many things about this amazing duo. I was quite eager to read their previous series, The Royals. However, I was in a dire need to read a YA contemporary, romance novel and When It's Real fit the bill.  I'm actually really glad that I did. I really enjoyed this enemy to lovers story between these two characters.
Oakley Ford, a rock star hero who was born into the limelight is, in a huge mess and needs help fast, before his career becomes a distant memory. Vaughn Bennett is just your regular girl, that was forced to grow up sooner than most teenagers, after a devastating accident that left her and her siblings to fend for themselves.
As one can imagine, things for Vaughn aren't all rainbows and unicorns. Vaughn and her sister work hard to keep up with the demand of the household and still try to have a normal life. But in the end, the worry is setting in about sending the boys to college and the upkeeping of living. While Oakley is in a career rut that keeps getting worse by the minute. 
Therefore they both need a miracle and so the story begins with a legendary plan to help Oakley Ford and Vaughn. I for one really liked this story a whole lot. I know to some this story may have been "corny" and at times "unrealistic" but to me, this was outstanding with great life lessons that are great for teenage girls to take with them in real life! Which to me is what made this story amazing.
There were plenty of great lessons in When It's Real, but the most relevant one was Vaughn's relationship with her "real boyfriend"! I've read some reviews and to my surprise, many, many people didn't even mention this. Which was a bit upsetting to me. I believe that being an adult YA Blogger, you have a huge platform and with that platform, you should at least help others. We as adults have gone through many of these YA scenarios in life.
We have the opportunity to reach out to young minds and teach them the rights and wrongs in life. So that maybe, maybe if they listen to you, then they don't have to go through the same thing you did.
Sure reading YA is fun, we all love romance and love squealing with delight over our favorites characters and their relationships!!!! That is all amazingly great but when you have the opportunity to teach your target audience, by all means, please do so. It's our duty to teach young minds and hopefully, show the right path.
Nonetheless, in this story, the lesson is that Vaughn's boyfriend is the epiphany of a douche bag. One who every girl should get far away from. What Vaughn went through is a great lesson for anyone to learn that not everything a "boyfriend" tells you, in good. The bottom line is Boyfriends or girlfriends shouldn't pressure their significant other into thinking sex is ok when they aren't ready to take that step!
In the end, this book was great, it was smart and intelligent with many key points! It also got the message across with some heart-wrenching moments with a great romance story. This was a delight of a read and can't wait to read all other books by this duo.
Always, Helena