So I have been following the lovely THE CANDID COVER for a bit. And She has come up with a great idea (which I, will join her in)of combining 2 book memes together. Which let me tell you it's a great idea and saves a whole bunch time. She's so smart and is absolutely charming and you all must visit her.
The Two memes I will feature on Friday's will be none other than Book Beginnings, a book meme hosted by Rose City Reader where participants share the first sentence (or so) of the book, along with initial thoughts about the sentence, impressions of the book, or anything else the opener inspires. And The Friday 56, hosted by Freda's Voice, and the rules are quite simple: Grab a book, any book, and turn to page 56 or 56% on your e-reader. Find any non-spoiler sentence(s) and post. You can also link up your post on Freda's Voice blog so others can visit you as well. Hope you enjoy!
[divider]
This week's book: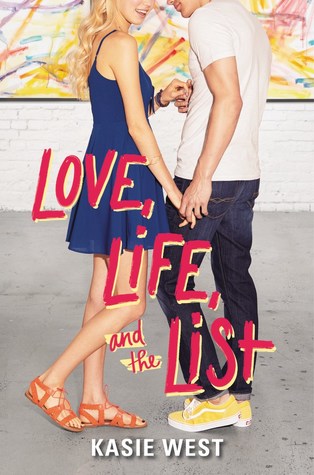 Love, Life, and the List by Kasie West
Published by HarperTeen on December 26th, 2017
Everyone knows Abby Turner is in love with her best friend, Cooper Wells. Including Cooper Wells. But despite what people tell her, it doesn't affect their friendship. And she's practically over it, anyway. What she really can't get over is when her boss at the local museum tells her that her paintings lack heart.

Art is Abby's passion and she hopes her future as well. She is determined to change his mind and earn her way into the upcoming exhibit at the gallery. So along with her family's help, she compiles "The Heart List," a series of soulstretching experiences that are sure to make her a deeper person and better artist in six weeks or less. When Cooper decides to complete the list along with her, she realizes this list is expanding her heart in more ways than one. Maybe she needs to start another project.

Love, Life, and the List is about a girl who, in an effort to bring more emotional depth to her art, compiles a list of soul-stretching experiences to complete with her best friend—a boy she also happens to be in love with.

This is the first in a set of three standalone books with crossover characters.
Book Beginnings
First Line: Hot or cold?" "Hot. I hate being cold. you know that about me." Just the thought made me shiver even though it was the middle of summer, which was what probably what prompted Cooper's question.
Impression: I know it's the initial thoughts about the book. But damn! I'm in NY, it's snowing and freezing here. 😂 So when I read that, I wanted to jump right into the damn book and just lay there for a second.😍Love, Life, and the List by Kasie West leap right into summer days. I love when books are set in the summer, especially during the winter. Thus far this book is pretty good. I like the mc and the secondary characters. Although my favorite is the mc's relationship with her grandpa. Which has me cracking up with laughter.
The Friday 56
"When did you do this?"
"The other day, after I went to that fish spa."
"This is what came of that? Now I wish I'd gone."
"It was pretty awesome." I picked up the painting.
"You really are just stalling, aren't you? You don't think this is good enough because you don't want to show Mr. Wallace unit you think you've reached perfection."
"No, I don't think it's good enough because I didn't feel right when I was painting it."
"What does that mean?"
[divider]
What are your thoughts about Love, Life, and the List by Kasie West? Have you read any of Kasie West's books? Which is your favorite? Let us know in the comments below. Thank you all for stopping by, know that we read all comments and try our best to respond to all of them and also visit your blogs and comment there. We hope you have a wonderful day xoxo
-Helena 💋xoxo