THE CANDID COVER  came up with an amazing idea of combining 2 book memes together. Helena and I think this is an amazing and super creative idea to discover new books and to share the ones we love with everyone else!
The Two memes we will be featuring on Fridays will be none other than Book Beginnings, a book meme hosted by Rose City Reader where participants share the first sentence (or so) of the book, along with initial thoughts about the sentence, impressions of the book, or anything else the opener inspires. And The Friday 56, hosted by Freda's Voice, the rules are quite simple: Grab a book, any book, and turn to page 56 or 56% on your e-reader. Find any non-spoiler sentence(s) and post. You can also link up your post on Freda's Voice blog so others can visit you as well. Hope you enjoy!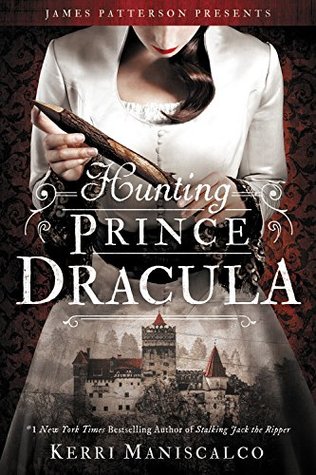 Hunting Prince Dracula by Kerri Maniscalco
Published by Little Brown & Company on September 19th, 2017
Genres: Historical Fiction, Mystery, YA
Format: Hardcover
Goodreads
In this New York Times bestselling sequel to Kerri Maniscalco's haunting #1 debut Stalking Jack the Ripper, bizarre murders are discovered in the castle of Prince Vlad the Impaler, otherwise known as Dracula. Could it be a copycat killer…or has the depraved prince been brought back to life?

Following the grief and horror of her discovery of Jack the Ripper's true identity, Audrey Rose Wadsworth has no choice but to flee London and its memories. Together with the arrogant yet charming Thomas Cresswell, she journeys to the dark heart of Romania, home to one of Europe's best schools of forensic medicine…and to another notorious killer, Vlad the Impaler, whose thirst for blood became legend.

But her life's dream is soon tainted by blood-soaked discoveries in the halls of the school's forbidding castle, and Audrey Rose is compelled to investigate the strangely familiar murders. What she finds brings all her terrifying fears to life once again.
Book Beginnings
First Line: "Our train gnashed its way along frozen tracks toward the white-capped fangs of the Carpathian Mountains. From our position outside Bucharest, the capital of Romania, the peaks were the color of fading bruises."
Impression: EEEEeeeee! I really can't wait to start reading about Thomas and Audrey's adventures! Kerri Maniscalco is definitely one of my favorite writers ever! I started to read Hunting Prince Dracula recently and I love it already 😍❤️
The Friday 56
A young maid stood abruptly from her place near the tub, apologizing as her cleaning rag plunked into a bucket. Gray eyes stared back at me.
She wore an off-white peasant blouse tucked into a patchwork skirt with an embroidered apron.
"Didn't mean to eavesdrop. My name is Ileana"
Have you guys read Stalking Jack The Ripper? What about Hunting Prince Dracula? As I said, I'm not that far in the book but I'm really loving it so far! Let me know your thoughts in the comments below, would love to chat!