[divider]
I love, love Buffy the Vampire Slayer, it was the best show of its time!!! So I was extremely excited for Slayer by Kiersten White. I went into this book open-minded, I didn't want to overhype myself and be disappointed and I'm glad I did because I'd be super disappointed right about now. 😂
Because Slayer by Kiersten White was just okay for me! Don't get me wrong, It was an enjoyable read and I loved all the shows references. Which I have to admit give me super high nostalgic moments! (Which only served to remind me how much I miss this show, even though there was a lot of shade been through towards Buffy!)😠
Slayer by Kiersten White wasn't earth shattering it was a fun, enjoyable read. You're dropped right in the middle of the story and if you aren't familiar with the original show and comics, it can be a bit confusing but nonetheless still understandable as you read on.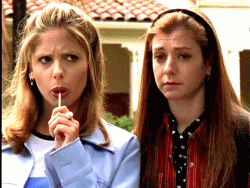 The main character, Nina is just like any other 16-year-old out there. Just like any other character she has her faults and wasn't forward with her feelings, did things on impulse and made mistakes. Nina isn't that different from anyone else in this world. She's just like you and me trying to find her place in a huge world and be accepted. In the end, Nina learned how to ask for help and handled situations amazingly. This was an okay coming of age story with some good learning experience that we all can take note from. 📝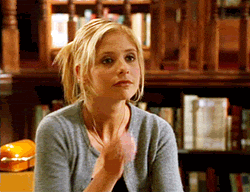 There were a few moments that left me mystified but there was a part where I was most definitely disappointed in. And that was definitely a not so lovable character's behavior, which, unfortunately I can't describe because of spoilers. Nevertheless, it's something that I think wasn't handled properly, in my opinion. Let's just say that a character was a bit problematic and just because there are representation traits of say character doesn't mean you can excuse bad behavior as if that should explain everything.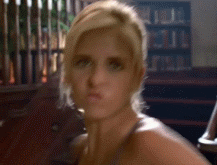 In the end, I liked the story, forgetting a few factors there were some endearing moments with humbling friendships. Maybe it's because I love Buffy the Vampire Slayer or maybe it's because I like to believe that people learn from their mistakes and mishaps, that I'll try and give this series another shot, even though this book wasn't perfect but then again who is "prefect "?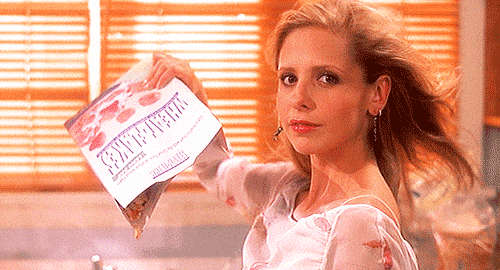 For now, however, I have to go, and binge watch my favorite show of all time, Buffy the Vampire Slayer!❤️
Have you watched Buffy the Vampire Slayer? Or maybe read the comic books? Are you excited for Slayer by Kiersten White? Let me know below and leave your blog link so I can visit. Have a great day.
[divider]
About The Author: Kiersten White
Kiersten White is the New York Times bestselling author of many books for teens and young readers, including And I Darken, Now I Rise, Bright We Burn, The Dark Descent of Elizabeth Frankenstein, and Slayer. She lives with her family near the ocean in San Diego, where she perpetually lurks in the shadows. Visit Kiersten online at
[divider]